THE JETBOAT WILL NEVER BE THE SAME!

Jim Youngblood began to experiment with performance boats in the late 1950's in California and is noted to have boat building experience dating back to 1958. He ran a number of circle track and drag race flatbottom v-drive boats. Jim began interested in the early development of the jet propulsion driven boats. He worked with folks like Blin Martin at Esquire boats and later designed a low profile boat at Esquire with Phil Percival. One of these boats was featured in a California newspaper in 1969 as "James Youngblood with his NEW INNOVATION IN JETBOATS, the White Lighting Special". Jack Mclure of MPD fame also worked with the Esquire team in late '60's and early 1970's. The Esquire boat molds were later modified and produced as Southwind boats and the deck design from the "White Lightning" boat was used on the "in house" Southwind of Jan at Lightning Manufacturing. Click here to see the Esquire "White Lightning" boat & Lightning Manufacturing race boat!

The boat business over the years has had it's ups and downs and Jim had a few personal problems of his own. Around this time he recieved an offer to help Neil Clark design and build boats in Cabot, AR. He and Neil Clark collaborated on the Triple C industries Apollo Jetboat designs. Click here to see Apollo Boats. The Apollo designs included family ski boats, bass boats and a low profile hi performance "California style" jetboat. This low profile jetboat was manufactured as a custom lake boat, race boat and even a few jet "bass boats". As you review various hull pictures, you will be able to look at each of the boats mentioned throughout this article and see the chain of development and resemblance of one to the other. One of the close resemblances can be seen in the center keel from one hull to the other. As has been the way over the last thirty five years, most of the successful performance boats have resembled others. Some of the folks were innovators and some were just copiers. The art of boat "splashing" seemed to run rampant in the late 70's. Even today many think why reinvent the wheel if the hub is working fine?

During these years in the early 1970's was a time of major jet boat development. Jim was an innovator and had the opportunity to work with some of the other great innovators of the time. These chemistries formed formed to make great marks in jetboat history. Jim and Neil and the Apollo boat company were located in Cabot, AR, a small town located a few miles Northeast of Little Rock, AR. Little Rock served as home of the Jacuzzi Brothers headquarters, a company that designed and manufactured various water propulsion devices that included the hot tub and jet pump. Jacuzzi Bros plant included a couple of young budding jet propulsion engineers, Jack Seastrum and Roger Finney. These guys were on the scene and both had an interest in designing and implementing the jet pump in performance boat designs. Along this time at the Apollo plant was a budding fiberglass boy wonder of gelcoat and design Robert Wittenburg. These guys teamed up to build not only innovative boat hulls, but also some of the greatest gelcoat designs of the age and the performance pumps to propel them. Each of these guys is an artist in his own right. Jack Seastrom, also known as Jac Sea, is instrumental in developing very efficient impeller designs, the high speed loader, referenced as the "sharks tooth" that assisted in the higher speed potential of the boats. Roger Phinney built engines, rigged boats and drove his "Wild Injun" to a number of K-Boat records and Whittenburg constructed boats in a number of plants over the years.

At the time all these guys were working together some fun things were happening! After all, they were pioneers in this jetboat industry and they were making history! There were many folks trying to develop propulsion and hulls through the next decade that wanted to be the leader in these technologies. Some rose higher and quicker than others, but the competition was on! Jim began to run a series of raceboats and began to have a following and his accomplishments were widespread. One of the more humorous and memorable boats was the Apollo jet propelled "Bassboat"! Yes, a bassboat version of their jetboat hull was taken to some big bassboat, drag and circle races and with Jim's Injected Big Block or his Blown Big Block Chevy for power and set, "bassboat" records! Jim drove the boat as well as engine builder/tuner Ed Hines.

It was during this period of time, circa 1975, that Jim began development of the most popular jetboat ever produced, the TX-19! I would venture to say this is the most popular performance jetboat and the most copied boat ever produced. Click here to see one of the first TX-19's by Jet Boat Engineering. Some thirty years after the original construction, the TX-19 is still being produced by several boat companies as a great performance modern jetboat of today!

It was during the seventies that Jim worked with many of the great jetboat hull and pump builders such as Earle Smith, Jimmy Johnson, Phil Persaval,Ervin Capps, Terry Favors, Tom Morrow, Bodie Council, Jack McClure and others. He also began associations with race teams and drivers such as Rick Hendrick, Stuart Mathews, J. D. Simms, Mike Straughan, Larry Morden, Marty Keegan, Mike McGraw, Gerald Livingston, Don Chickey, Don Sherrill, Jimmy Hosmer, Gary Spitzer, Dan Pastorini and the list goes on. Many records were set with Youngblood Jetboat designs from the 1970's up through today! If you go to any dragboat race today, you will still see many Youngblood jetboats and their derivatives in the heat of competition! The gullwing design lives on. CLICK HERE TO SEE YOUNGBLOOD PERFORMANCE BOATS "EVOLUTION"!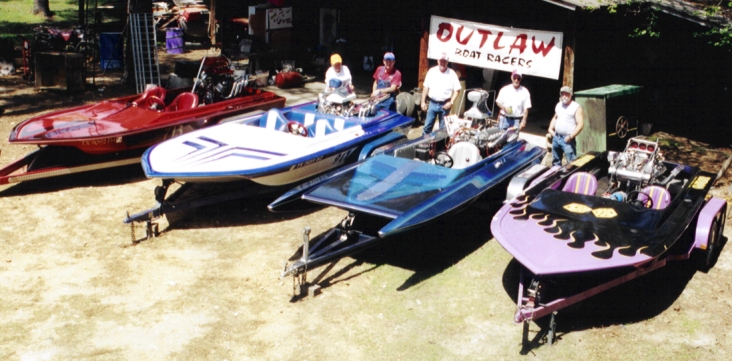 "OUTLAW BOAT RACERS OF MAUD, TX!"
A Sunkisst and three Youngblood Jetboats pictured!
If you are interested in contributing comments, pictures or other information to this page, feel free to e-mail

[email protected]