Youngblood Performance Jetboats




INTRODUCTION
Greetings and welcome to the youngbloodjetboats.com website. Over the years the Youngblood Performance Jetboats have been both loved and hated. As these boats are now considered "vintage" jetboats, I thought we might form this website as a source of history, opinion and information on these boats. Several persons with history in these boats have agreed to contribute along the way. New pictures from Youngblood boat fans along with some of my own memories are being posted on a regular basis. I personally have been a performance car and boating enthusiast most all my life and specifically involved in motorsports for over 30 years. I have enjoyed contributing to the development and testing of numerous performance boat and race engines during this time.

I invite your contributions to this site. I am sure some of my comments may be considered controversial as I report my memories on how Jim Youngblood and his team developed one of the most successful and copied performance jetboat hulls in the boating industry's history. These comments are not intentional in raising you to an anger level, but rather to raise your interest in posting facts as you remember them to this jetboat history site!

MY STORY
My first experience with a Youngblood was a TX-19 back in the summer of 1978 when my old boat buddy John Sullivan swapped his Hallet flat for the jetboat. At the time I was running my first lake performance boat, a '72 Sanger flatbottom. That same year while camping at Lake Greeson in Arkansas I met J.D. Simms and Larry Morden from Performance Jetboats of Dallas and J.D. showed me how a properly set up jet accelerated. The next Spring I ordered my first new performance boat, a Youngblood TX-20 tunnel hull jetboat. I ran my 20 foot tunnel over several years with various engine combinations on the lake and bracket racing with a successful win rate in competition.

In 1984 I purchased a TX-18 Youngblood Tunnel and joined the ranks of Unblown Gas Jet. 1986 was a succesful year for our team as we qualified, placed or won at every race during the season with the exception of one where I had brain fade on the tune up. We finished the season as S.D.B.A. High Points Runner Up to my old friend Mike Straughan in the Performance Jet Boats of Dallas Cheyenne by the name of National Debt and tuned by J.D. Simms. Our best single outing in '86 was a M.S.D.B.A race in April at Shreveport where the Star-Fish Team was #1 Qualifier, reset the M.S.D.B.A. Unblown Gas Jet Record and Won the race. We ran James Dumas driving Woody Martin's CP in the finals. I drove the High and Dry Comp Jet for Gary Spitzer at a few selected races in '87 and then walked away from the boat racing at the end of the season due to safety issues in the industry and a young family to raise. Looking for a safer means of racing, my brother Stuart and I have remained active running our NHRA Competition Eliminator dragster and assisting in the development of performance and racing engines with race fuel sales and dynamometer service. It was not until November of 2004 that I had any interest in owning a performance or now as they call them "vintage jetboat" again.

An old boat buddy of mine, Mark Bates, came by to spend the morning and lunch with me one Monday in November of '04. Somewhere during the conversation he mentioned a 20' Youngblood Tunnel for sale in Shreveport. I asked him what color the boat may be and when he replied "silver with red and blue panels", I pulled out an old box of pictures and in a few minutes threw two on the desk. Mark replied, "That is the boat!". Well that did it for me. See this boat was ordered at the same time I ordered my old brown 20' tunnel back in '79 and the boat had belonged to my old boat buddy John Sullivan. John, a long time friend, past away with colon cancer in the mid 1990's. As I seem to be a sentimental fool and old historical things seem to be significant in my life over the last few years. (Linda and I purchased and renovated my great-grandparents home which is the oldest standing family dwelling, and I purchased a '75 Cosworth Vega a few years ago which represents the connection to my first "new" car a '72 Vega that I met my wife in, went to college in and was in the day I asked her to marry me) When Mark and I visited about the boat, those old memories of times at the lake, racing, rigging boats together, friendships, Linda and I starting our family about the same time as John and Sue and generally the friendship I had with John welled up inside of me and for the second time in my life I had a "boat void". I bet you guessed... this time it was for a "vintage" Youngblood Jetboat.

So, there I sat on a Monday morning, two weeks later in late November 2004 with a '79 Youngblood Tunnel in my garage and the plans for the restoration to begin soon. The restoration completion was set for July 4th weekend 2005 and Linda and I are happy to say the date was kept. We had a great time as can be seen in the Broken Bow July 4th, 2005 weekend pictures.

WHERE DO WE GO FROM HERE?
Thank you for reading and I hope my stories are not too boring. Please join in on our discussions or begin new ones in the Guestbook or Forum areas. I hope that you enjoy the other sections of this site. Please report back and let me know what you think anout the site. Thanks again!

Steven Smith

P.S. We are beginning a registry for the Youngblood boats. Send me your name, picture, description, s/n and history of the boat and I will post them on this site as time permits.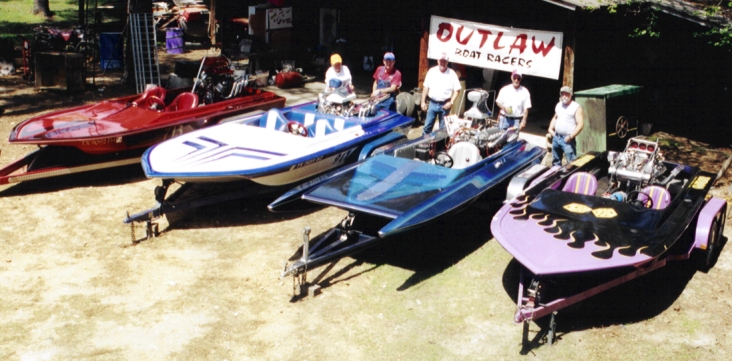 "OUTLAW BOAT RACERS OF MAUD, TX!"
A Sunkisst and three Youngblood Jetboats pictured!
If you are interested in contributing comments, pictures or other information to this page, feel free to e-mail

[email protected]