Editor's note: I had to take a moment and write a preamble to this article. Just how cool can it be that a guy can take a hull that is twenty years old, spruce it up a bit and win a national contest as the HOTTEST LOOKING JETBOAT? And on top of this, few people really know the performance capability of Keith's current combination. It is also an original YOUNGBLOOD! Next season he is considering running her through te traps to see how fast she is. Also congratulations are in order as Keith and his gal Shalane tied the knot in Hot Springs this last Thursday just prior to the Smoking In The Cove boat drags September 23-25 2006. And where did they spend the first days of their honeymoon? You guessed it! SITC 2006!
HOTTEST LOOKING JETBOAT IN THE USA!
Congratulations - Keith Talley!
Bassett Racing Contest 2006 - First Place Winner !
Hottest Looking Jetboat
Featured In Hot Boat Magazine - October 2006 Issue
Submitted by Carla Talley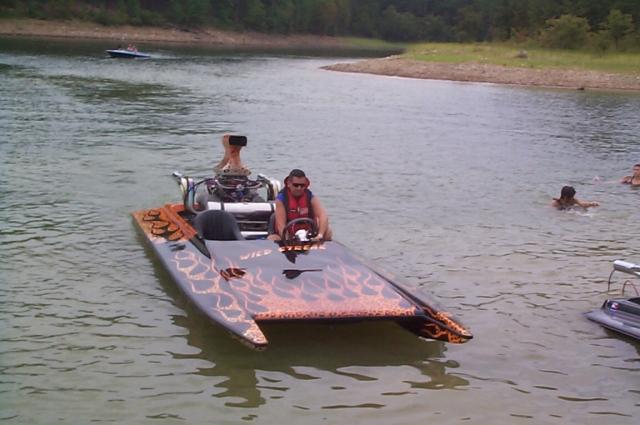 After under going an extreme make over on his 18' 1986 Youngblood Jetboat, KeithTalley entered the boat in a contest sponsered by Bassett Racing on April 30,2006. The boat named " Wild Streak" to match it's new leopard print paint job won First Place in the category of Hottest Looking Jetboat . It is featured in HOT BOAT Magazine in the October 2006 issue. As well as winning First Place, Keith also won a set of Bassett headers which now adorn his boat. They were installed after the Labor Day racing event in Broken Bow.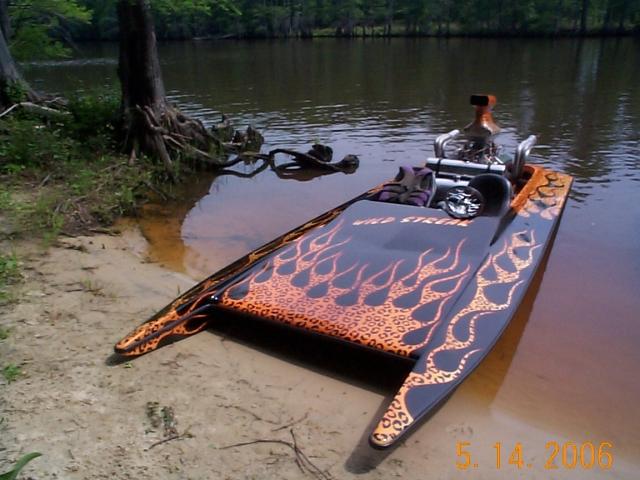 "Wild Streak" seen here relaxing at Caddo Lake. Once in motion the boat sets out to prove it's name!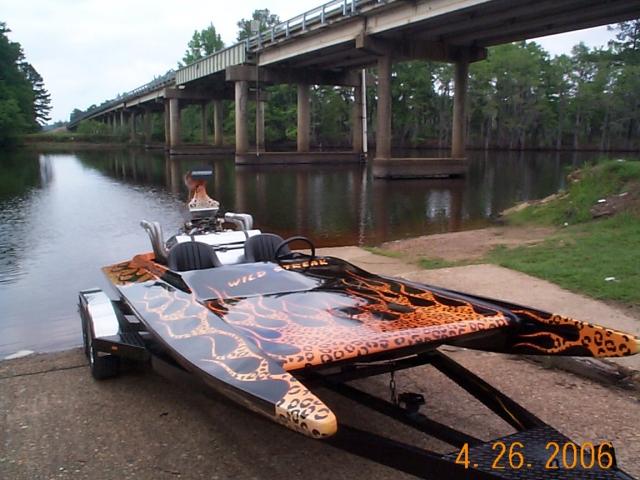 Just back from the paint shop, two days before the deadline for contest entry the race was on to take the pictures at Caddo Lake and send by Federal Express hoping to get into the Bassett Racing Contest in time.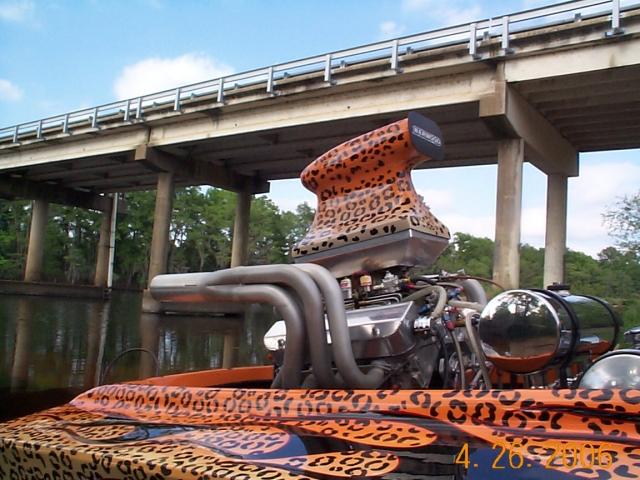 Here is a close up of the scoop and also of the motor that was on the boat during the Memorial Day and July 4th racing event in Broken Bow 2006. By Labor Day 2006 a new , more improved " More Power To Ya!" motor replaced this one.



A long time dream of Keith's graphics idea for the boat has finally become a reality! Seen here is the side view of the leopard print paint job. The paint job was done by Jay Leopard in Shreveport, La. His name was an interesting and coincidental twist in the grand scheme for Keith's Youngblood Jetboat.

Keith Talley -

[email protected]

Cell# 903.742.1178


If you are interested in contributing comments, pictures or other information to this page, feel free to e-mail

[email protected]