READER RIDES
Ken Foster
Robbie Barrett
Larry "Chop" Helms
James Salesberry
South Texas Guys
Barry Helms
Ricky Pope
Phil Kirkland
Ken Foster
Republic, MO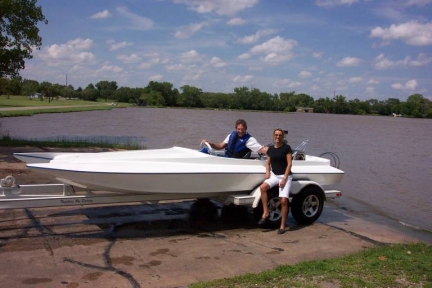 CLICK HERE TO SEE THE CONSTRUCTION OF KEN'S BOAT!
Robbie Barrett
Dekalb, TX

This is my 18 ft Jimmy Johnson (Jetboat Engineering - Vian, OK) Youngblood,
I think it was a 1987 model but i'm not sure. This boat was a good family lake
job and a good bracket race boat. This boat ran in the modified eliminator class
(10:00) The engine was a 540 cubic inch engine built by Adger Smith at
Performance Engines in Texarkana, Texas. It ran 10:20 on the motor and 10:00's
with a small shot of NOS. It reached speeds of 106 mph either on the lake or at the track.
(Webmaster Note - Robbie raced a fast Pro Gas Jet Cheyenne in the SDBA during 2003 & 2004.)


Robbie Barrett - 2005
Robbie is refurbishing a California Performance 19' Gullwing for the lake and bracket
racing for the 2005 season. He and his wife Carrie have two cute daughters that wanted
to ride the waters, so Robbie is availing them with these pleasures by having a full
compliment of seating in the boat. You can bet Rob will throw some power into the boat.

See his 2005 ride below being refurbished with new clear gelcoat at Scott's Marine in Hot
Springs, AR. These are shots of work in progress. Finished pics coming soon.

NEWSFLASH!!! Before Robbie could complete his rigging, he sold the boat to "Chief".
About two weeks later.... Chief's (Howard Harp) wife decided she wanted a larger boat and he
sold the TX-19 to Ricky Pope, driver of Larry Welch's TX-18 race boat. Congrats Rick, I hope
you complete the boat and get it on the water soon!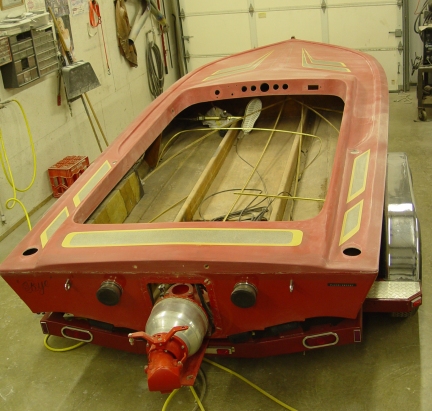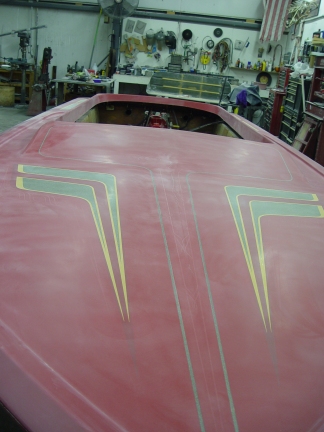 After Scott cleared the hull and Robbie installed new carpet.

Larry Helms
Maud, TX
Freshening my Youngblood TX-19 #115 This Winter!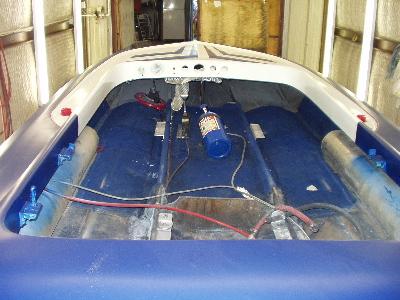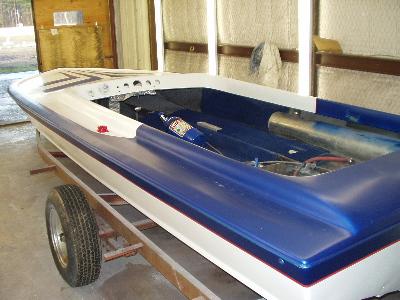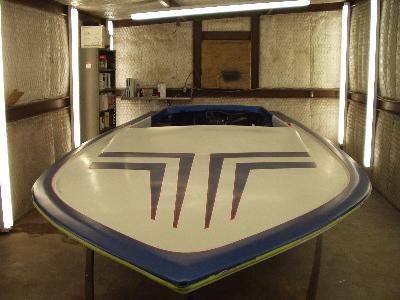 Here is my TX-19 in January 2005 after I freshened the paint on my hull.
At this stage I reshot all the paint on the boat and I am waiting for a good
weather day to shoot the clear.
I can't wait to put her back together and hit the lake again!

Robbie... when will you have your CP TX-19 ready for the lake?


[email protected]
CHOP HAS HIS BOAT TOGETHER & READY!


Looking GOOD Mr. CHOP!!! You definately have your boat ready before I do mine!!!


James & Judy Salesberry
Medina Lake
Lakehills Texas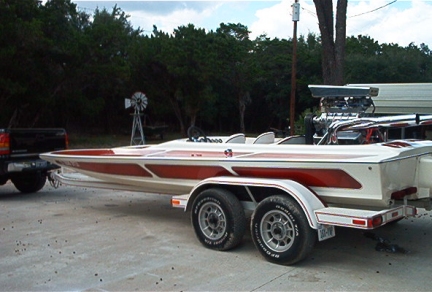 This is the beautiful 1983 Youngblood TX-20 of James and Judy Salesbury. They are the second owners of
this cherry example of a vintage performance jetboat. This is hull #JBN000910383, which is the 91st TX-20,
constructed in March of 1983. The hull is several shades of red and white. James and Judy
plan on making the race in Bryan Texas in August. See discussion forum on how fast one of these things
will go!

South Texas Jetboatin'!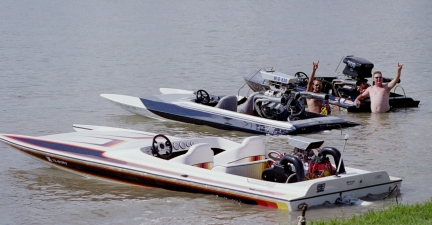 This is a group of SouthTexas Jetboaters that have a great time on the water!
Pictured is Kelly Craven's Warhawk Jetboat with Greg "Cowdog" Cawyer
and his TX-18 Youngblood and Kenneth "Cornbread" Blair and his 17' Predator!



"Cowdog" and "Cornbread" Hookin' Horns!
During it's lifetime, the Youngblood TX-18 Jetboat of Cowdog served as the
Blown Gas and Alky Jet race boat of the Indian Mafia race team and the UBGJ
of the Star-Fish Racing Team prior to it's latest "Dallas Cowboy" paint scheme!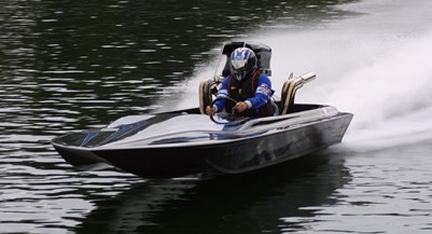 A few more pictures of Kenneth Blair's 17' Predator, sometimes called a TX-17.
The Predator is fairly rare and was constructed by Jimmy Johnson in Oklahoma.
(See our "Old Jetboat Ads" section for a Jet Boat Engineering adv of this hull)
It is a shortened and narrowed hull version compared to the TX-19 gullwing style jet.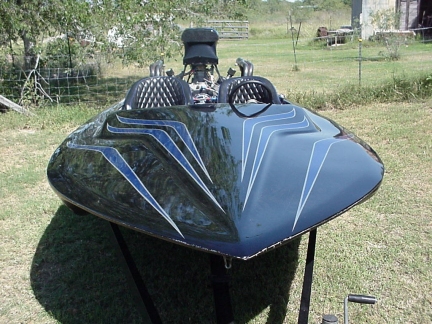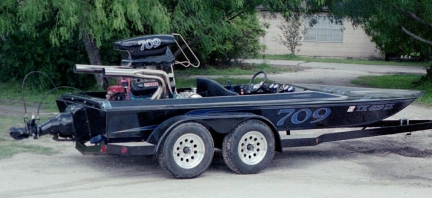 Barry & Cindy Helms
ON THE RIVER IN ARKANSAS!!!

Ricky & Carol Pope
Beautiful CP TX-19!!!
This great looking CP TX-19 belongs to Ricky & Carol Pope. Rick purchased the boat
unfinished from Robbie Barrett (shown above) and had her ready for the July 4th weekend
at Broken Bow the summer of 2005.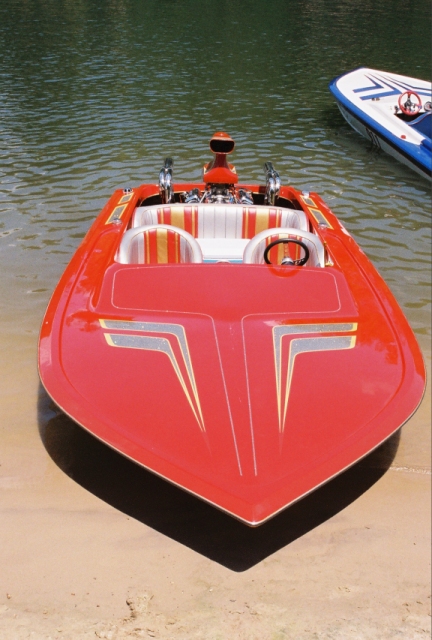 Phil Kirkland
Youngblood TX-20 #008
This is Phil Kirkland's JBN 0008279 TX-20 Youngblood Tunnel. The boat was originally Root Beer Bronze and Brown, then someone painted the boat Purple and White. I found this boat in Oklahoma and did a little restoration on it. I plan on restoring the trailer winter 2008.

Motor - Merlin III 468", 13:1 Compression, 2-4 Tunnell Ram w/ 850 Double Pumpers (No Nitrous Yet)... 12 JG Pump w/ Stainless A, Droop and Place Diverter. Nothing Special. GPS the Boat at 90.3 MPH.

I hope you enjoy the pictures. We had a blast at Broken Bow July $th Weekend 2007!
Phil Kirkland 972 369 9275




If you are interested in contributing comments, pictures or other information to this page, feel free to e-mail

[email protected]