Scott Foxwell
Gordon Stout
Jay Erscen
David Cooper
Tim Cook
Steve Welch
Ervin Capps
READERS WRITE
From: SCOTT FOXWELL - WEST COAST - FEBRUARY 2005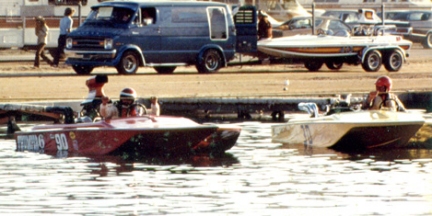 Dick Griffin & Bill Scotten in holding area at Lake Ming circa 1978


Scott writes:

Through the relationship between Youngblood and Earl Smith came a driver and engine builder combination that would dominate during the late 70's/early 80's. Their names were respectively Dick Griffin and Bob Joehnck, of Santa Barbara, CA. The boat's name was Thumper. These guys introduced the Youngblood Gullwing,and the ES Tunnels to the west coast and pioneered a lot of stuff out here. Griffin won the NDBA points championship one year, and driver of the year award as well. I think he ran Comp Jet.

Dick is a good friend of mine, and I love hearing his stories of those days. He still has one of the first boats Earl pulled out of the Youngblood 19' mold when he got started. I'd like to know if there are any articles or pictures of Dick in any of the old NDBA archives. I'm including a couple of pics of Griffin in his Earl Smith boats. Both pics at Ming, one along Bill Scotten (in his yellow Youngblood/ES Gullwing), waiting in the loading ramp area, Scotten in the yellow boat, Griffin in the red one. Scotten raced Ski Jet class then.

Thanks for this web site. It's cool....
Scott Foxwell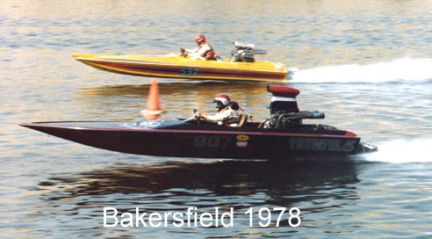 Dick Griffin outrunning Greg Shoemaker in his Eliminator Daytona
Return To Top
From: GORDON STOUT - EAST COAST - FEBRUARY 2005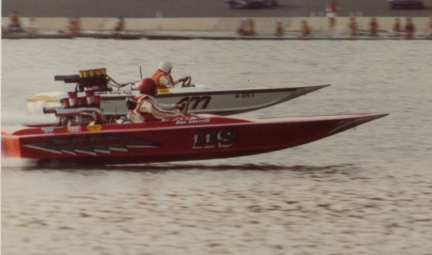 GORDON Writes:

This picture is of Rick Hendrick's driver Frank Hogge in one of the City Chevrolet Stuart Mathews powered Youngblood TX-19's outrunning Don Sherrill circa 1977. This combination of driver and engine builder produced several speed records and wins during the 1977 and 1978 season in Unlimited Jet.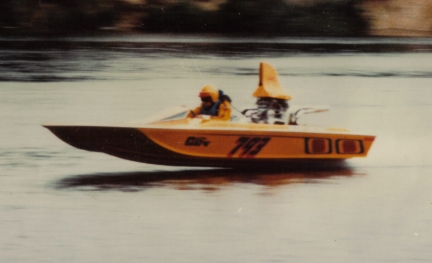 Above is another one of the TX-19's from the Rick Hendrick's camp that was succesful in Unlimited Jet driven by Frank Hogge and powered by a Stuart Mathews Carbureted Big Block Chevy. This boat suprisingly showed up on E-bay for sale recently (February 2005) and I purchased this piece of history! Gordon Stout

[email protected]


Return To Top



From: JAY ERSCEN - MIDWEST - APRIL 2005

JAY writes:

Hi my name is Jay Erschen and I own Scorpion boats, which started in Apache Junction, Arizona in 1995 whos sister company was East Valley Performance Marine. In 1995 I purchased the original TX-19 & TX-20 Molds From Mark Becker of Midwest Custom Jets in Centralia, Iowa,which he had purchased from Ervin Capps in early 90's when Ervin went out of buisiness. Since then I have moved back to Iowa. where I am setting up shop at 307 W. Grove ST.in Maquoketa, Iowa 52060. Hot Boat magazine tested our TX-19 Open Bow and TX-20 tunnell in 1997. In the May issue of Hot Boat is the 2004 TX-19 I built for Tim Brewer. I am still building these boats out of the original Youngblood molds here is a picture of one of the latest TX-19's I built.




My Ph.# is 563-590-5875 Thanks Jay
(p.s. this is just the short story)
(Editor's note. I sorry to report, but I believe Jay went out of business in late 2006.
Return To Top




From: DAVID COOPER - NE TEXAS - MARCH 2005


DAVID writes:

I am David Cooper and as you are aware I have a TX-19 youngblood. It is a 1979 model ser# JBX019049678 1979. It was built by Jimmy Johnson in Oklahoma. It was a light hull when it was built but since has some reinforcement in the keel. I just wanted to give you a little history of the boat as I know it. The first I knew of the boat it was bought by Russ Willingham of Broken Bow, Oklahoma. He purchased it from somebody in Durant OK. Russ told me that it was full of leaves and sticks and was sitting in the back yard. I don't believe he ever put the boat on the lake before selling it to Larry Knight of DeKalb, TX. Larry in turn didn't keep it long either and sold it to Kirk Foster of DeKalb. Kirk didn't keep it long either and sold it to Robbie Barrett. Finally Robbie completed a lot of repairs to the hull including painting it Red with Imron. (webmaster note: Can you imagine Robbie painting anything other than Red in color?)

Robbie then put a 30 over BBC in the TX-19 and then hit did a lot of lake racing with it. He told me at that time it was very thin on the bottom and it would run about 84 mph just on the motor. After adding a NOS plate to it the boat would run 99 mph on the bottle. After a time Robbie then sold the boat to Grady Epperson and I lost track of it until he sold it to Skeet Amason of New Boston. Skeetused the boat only a few times and sold it to Tony Sons of DeKalb. Tony replaced the stringers in the boat and added a lot of fiber glass to the bottom. He told me it was so thin he was worried about the bottom holding together. Tony also added a large box in the center the use as a storage box and to have a flat place to walk inside the boat. While doing these repairs he also painted it white and blue. I believe Tony keep the boat about 2 or 3 years and sold it to Larry Welch of Texarkana. Larry again painted it, but he used black and added purple flames across the front. He added a purple pearl to the (ANYBODY KEEPING TRACK OF HOW MANY TIMES THIS BOAT HAS BEEN SOLD & REFINISHED?) clear coat giving it a purple tint when it is in the sun. Larry ran a 475 BBC with a nitrous plate. Larry ran the boat several years including during the time he and Chop started the Outlaw boat racing association. He told me that the boat would run 98 of 99 on nitrous at Atlanta State Park during their races. Larry bought a TX 18 and ask me if I wanted to buy the TX 19. I told him yes and we agreed on a price and it FINALLY became mine.

I bought the hull without a motor but had everything needed to put in an engine and go to the lake. I had purchased a 427 BBC that I was planning to use in a drag car but put it in the boat instead. I have known Chop for a lot of years before I bought the boat and but he was the one that really helped me to get this boat up and running. I have been building motors for 30 years or so and had a good ideal how to make HORSEPOWER but was lost on how to set up a boat and make it run. The BBC 427 would push the boat about 83 or 84 mph just on the motor. Chop helped me with a nitrous plate and it would then run in the lower 90's on nitrous. In 2003 I started racing in the SDBA and made 3 or 4 races that year running in the river racer class using nitrous. In 2004 Larry Welch loaned me a 468ci BBC that he had taken out of his TX 18 after building himself a 505" BBC. I changed the cam to a roller setup and put an Enderle injection unit on it and started feeding it alcohol.

Running in the SDBA again, I moved up a class to SE (stock eliminator) and joined the association and decided the give it a run for the points. I ran 2 races winning one at Brady TX and during the Memorial day weekend at the lake, the 468 broke a lifter and destroyed the motor. The next race which was in FT Wort, TX was only 2 weeks away. Chop came to the rescue. He had bought a 496 rotating assembly and had a block bored for himself to use. Seeing I was not going to make the FT Worth race without a motor he sold me the 496 kit and block saving the day again. I added a NOS pro race fogger system while doing the motor swap. I ran the rest of the season on the motor without having to use any nitrous while racing in SE class. I don't know what the boat will run now with this setup but I hope to find out this coming year. I ended up 3rd in the points in 2004 year and hope to do better in 2005.

I just want to say the TX Youngblood boats are one of the best and safest boats ever built and after going through many owners, mine has finally found it's home. I just want to add that you are doing a killer job with the web site and hope you will keep up the great work.

Sincerely,
David "Coop" Cooper
903-684-3292


[email protected]





From: Tim Cook - CALIFORNIA - JANUARY 2006








I purchased this Condor Jetboat out of Oklahoma in November 2004. I then put my BB Chevy in it then launched and sunk it NYD 2005. The boat was in 85'of water for three weeks. I started it the day after it saw daylight again!!! With help from a great crew the boat has been completely re-rigged and is now running in the high 80's. Now it is getting the set-up worked on as I am shooting for triple digits.

Tim Cook
Colfax, Ca

[email protected]
From: Steve Welch - HOUSTON, TX - SEPTEMBER 2006





Hi my name is Steve Welch III, enclosed are some picture of our boat racing history. The black white and blue boat is one of the original Squat and Squirt boats built by Earl in El Paso, that belonged to my dad Steve Welch Jr. The newspaper article is about my dad back from 1985. The red boat is our 1991 witt craft which is one of two that Steve Welch ordered back in 1991 that are in still in Houston. We have owned the boat since 1996. We started are racing career in Atlanta Tx. at the Outlaw Boat races. In August we won the 1997 outlaw race. We also joined SDBA in 1997. In 1998 we ran Modified Eliminator class. In 1999 we were the runner-up in high points champion IHBA division two. In 2003 we moved to Top Eliminator class. In 2005 we with Tim Ortiz driving we were high points runner-up in SDBA. In 2006 we won the first three races of the year and ended the season with 2006 High Points Championship at the Lake Bryan Nationals. and also third generation racer Steven Welch IV got his top elim. drivers license in his first attempt to drive the boat. enlclosed are some pictures of my dads boat and a some of our boat. the first picture of the red boat is Steven Welch IV and the second picture of the red boat is Tim Ortiz. We really enjoy your website and would love to see some pictures of our boats on your website.

To date we have run a best of 8.58 at 121 mph at Ft. Worth in 2005. The pld Wittcraft will run 9.0's just about any where any weekend. As of August 26th, my son 18 year old Stevie IV drove the boat for licensing passes. His first pass was a half tracker for for the SDBA Top Eliminator drivers license. His 2nd licensing pass was a full track pass, his first full track pass, and ran a no nitrous 9.78 AT 104 resulting in his license making him the first 3rd generation SDBA racer. The powerplant is a 540" Chevy with Merlin block, Dart heads, Ultradyne cam topped with a pair of PRC Dominators. When needed we add a 150 shot of NOS, generally for less than 1/2 track to run 9.00 at around 101... slowing not to break out.

Thank you,
Steve Welch III
cell phone: 713-553-1233

[email protected]
From: Ervin Capps - Eureka Springs, AR - MARCH 2007

TX-19 MOLD PLUG



Hi Steven,
I have the new TX-19 deck mold finished & we are doing some final straightening on the hull plug sides and bottom. It is all about the bottom you know. We are running about 2 months behind. My back from years of laminating won't let me work as many hours as I used to! . Here are some pictures of our progress you are welcome to us anything of interest on the website. Thank you for caring about the Youngblood history and your efforts to preserve it. Jim Youngblood was a true innovator in performance jet boating and set a benchmark for performance that is hard to match 35 years later. Also ,thanks for your interest in my small part of the legacy and you and the "TEXAS OUTLAWS" for promoting my current venture. Thanks also for your support of Derrick & Jeff at R.P.M. Marine. They are good guy's and I feel like they will do a great job of carrying on the TX 19 tradition.
Sincerely,
Ervin[Big Bird] Capps
CHEYENNE CUSTOM BOATS
"IT'S ALL ABOUT THE BOTTOM"
http://phoenixfiberglass.net
Contact Ervin at

[email protected]


Contact Derrick Stover of RPM at

[email protected]





Preparing plug for the building of deck mold



Deck plug in gel booth.



Fresh gelcoat on deck plug prior to laying up mold.



Deck mold layup in process.



Pulling deck mold from plug.



Yahkey straightening sides and bottom of the plug.




From: Ervin Capps - Eureka Springs, AR - MAY 2007

Congrat's to Jeff & Derrick

After many months of labor a dandy pair of twins was born in Eureka Springs, AR @ 11:02 Friday May 04, 2007. After an unusually long gestation period the the twins, an 825# deck & a 1200# hull mold of TX 19 gender was delivered by natural birth. Both babies are doing very well & quite pretty I might add. [life ain't easy being green] The only complication was the umbilical cord seams to be wrapped around Jeff & Derrick's wallet & squeezing crap out of them. Welcome to race boat 101.

Big Bird
Cheyenne Custom Boats
"It's All A Bout The Bottom"

P.S. I hope I didn't screw up & tell you guys it was going to be easy. I know you guy's have what it takes to step up to the plate & carry on the tradition. I love you guys & thanks for your patience."



Molds a pair!





Return To Top

If you are interested in contributing comments, pictures or other information to this page, feel free to e-mail

[email protected]