Notes on the Youngblood TX19 from Jac Sea – January 2005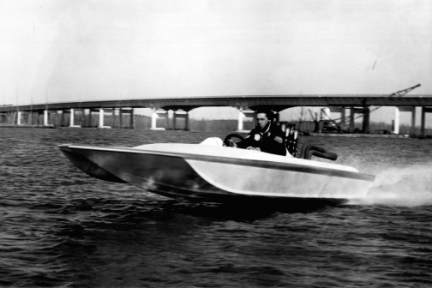 At the time Jim Youngblood was developing the TX-19 I was at Jacuzzi in Little Rock. During the 1974 racing year Jim ran a jet drive version of a cathedral bottom fishing boat Apollo had started producing. This was basically a cut down version of a 19' tri hull they produced that was similar to a Cobalt. This "bass boat" is the cathedral hull Jim had at the 1974 Austin Shoot Out. He would run the boat to the end of the course and then pretend to "fish" while boats were getting in the water.

As a reminder, races at that time consisted primarily of several classes of circle boats with classes for outboards and jets or "K" inboards. Drags were just starting with heats being run in between the circle races. Circle races always brought the crowd to their feet. The same could not be said for a drag boat class during that time.

As a rule the "Drag Boats" were highly chromed, full metal flake and more like the show pieces they are today. The circle boats were plainer, some showed a few battle scars and the owners/drivers were known for threatening to have close encounters if a drag boat should get in their way.

In the circles you could "step up" if needed to fill the next fastest class. Racers such as Sonny Brown and Earl Smith were known to run in two or more classes with the same boat with no changes or just a change to a dry exhaust from a wet manifold.

Circle racers such as Sonny, Earl, Jim Youngblood and Roger Finney (Roger was the all time "K-Jet" Champion) always ran the drags as well and were usually in the number one or two slots. It was during this 1974/1975 period that the TX-19 was developed. It was designed to be a circle boat with excellent turning ability and less tendency to drop the bow in a turn. The cathedral bottom gave it full length lift so you could really side slide it with power and there was plenty of bow lift to keep the bow up even at circle turns as slow as 50 mph. Add power and drive much like dirt track driving for those who are familiar.

I first saw the TX-19 run in March or April of 1975 when Jim brought the brand new #1 boat to the Interstate ramp on the Arkansas river in Little Rock. It ran great right out of the box! We made some trim adjustments (less lift) and Jim cut some mean straights and turns. Unfortunately, shortly after I left for Malaysia where a two-year contract working with jet propelled barges turned into 8+ years!

I still tried to keep track of jet boat development and there was no question that the TX-19 was a real step up in jet boat design. Even today, it is probably the best lake boat design available.

Love it or hate it? Obviously, I am a lover. Set up right, the TX-19 is a dream. For those who hate it, sorry but you just could not trim the nozzle way up and get the TX-19 on it's tail like you can a regular vee bottom as with the extra bow lift (of the cathedral hull) a TX would try to fly. Set up right, a TX does not chine walk and it will not have a tendency to kite.

Thanks Jim, the TX-19 is a timeless design.


Jack Seastrum