Esquire Boat Mfg.
"White Lightning"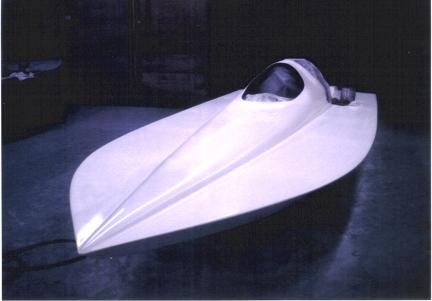 The original "White Lightning" was created circa 1969 in Hemet, CA at Esquire Boat Mfg. Esquire Boat Mfg. was started by a gentleman by the name of Blin Martin and was located on Western Avenue in Hemet, Ca. James Youngblood had worked in the plant and then purchased the boat plant from Blin in the late 1960's and relocated the operation to Hemet Ryan Airport in Hemet, CA.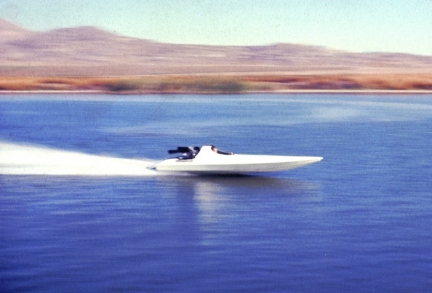 The "White Lightning" boat was a production 20' Esquire hull that Jim and Phil Percival decided to remove 6" of free board from the hull and manufacture a "Jet Airplane" deck for the hull. They were discussing having a bubble canopy formed from plexiglas, but never did. Larry Minor, a local potatoe farmer, built up a normally aspirated 427" BB Chevy engine for the boat. Minor also supplied a 392" Blown & Injected Chrysler Hemi for the flatbottom "Labor Pains".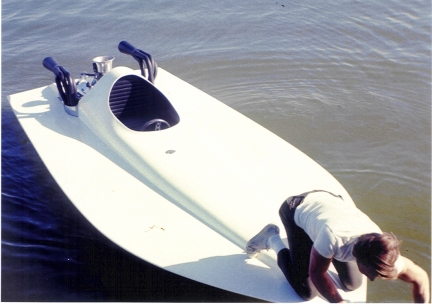 "Jim up a creek without a paddle again! :)"



   According to Warren Moore circa 1969, "I have always had a hard time comparing any jetboat to an Esquire. The 20' Esquire SHALLOW VEE hull design was remarkable on the water at 60-70 mph. It was at the time, the fastest and most stable hull in the water. With full tanks and 4 people on board, this hull would do 65 mph, and not porpoise, like a Tahiti hull would."



Special Thanks to Warren D. Moore, Alta Loma, CA for information on the the Esquire "White Lighting" and the pictures shown above!







Reknown boat tuner Jack McClure driving Jim's Esquire house race boat in 1970.



Later, after Esquire went out of business, Phil Percival began Southwind and some of the Esquire hulls became part of the Southwind lineup and Youngblood & Percival's deck from the Esquire was used on a few of these boats. One was used on an 18' Southwind V Bottom Circle Racer for Youngblood's personal circle boat and one was used for the top deck of Jan's "Lightning Manufacturing" house boat, a Southwind Tunnel Dragster pictured below. Jack McClure of MPD fame was one of the guys to hang out at Esquire and also tune and drove their race boats. When Phil's 18' Southwind came out, it was the one to be splashed. Irv Brendel with Hondo was one to splash the hull, but Phil prevented him from selling any until he went out of business. Southwind was then bought and reopened as Southwind by JenCraft.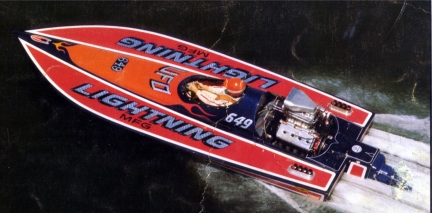 This Southwind picture is circa 1977. Notice how the style of the hull bottom and deck resemble several jetbboats such as the Esquire 20', Southwind 18', Apollo and TX-19. This is a pre-gullwing tunnel boat bottom. This Lightning Mfg. boat working in conjunction with Lee Talbot, won six out of ten races during the 1977 season. The boat was reported to have less power than the competitors and ran a best of 8.67 @ 134 MPH that season. To the best of my recollection and knowledge Jim Youngblood did not create any rocks or any part of the space shuttle, just what many consider some pretty cool old jetboats.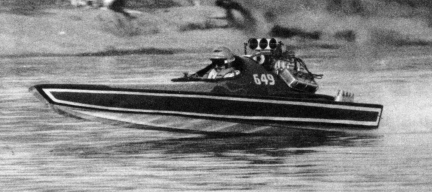 Thanks to Tim Demaret, [email protected],for some clarification on the picture of the Lightning Mfg hull. Check out www.Southwindjetboats.com It is reported by Tim that his grandfather, D. Jennings, operated the Southwind boats by Jemcraft (JNC) plant in California from 1969 to 1982. Southwind constructed several hulls including the 18' V Bottom which Tim's father later placed inserts in the 18' mold to produce the Southwind Tunnel Dragster. The first swtd was built in 1975 and they were offered out to the public in 1976. Tim's grandfather also partnered with Mark Connell for a plant in Killeen, TX under the manufacturing name of BELLCO Marine. Later Mike Edwards (Eddie's Speed Spot) made some design changes to the Southwind Tunnel and manufactured a similiar hull under the name of Eddie's out of Belton, Texas, a short distance from Killeen. Thanks to Tim for the contributions!



Mark Connell driving the Southwind factory boat the Blown Fuel Jet, "Big Red Special" in Austin Spring of 1977. In this picture Mark was moving on past the late Don Williams who was driving his Sleek Kraft Tunnel "Texas Spirit". The Big Red Special set a new record this weekend with passes of 137 and 139 MPH! It was the fastest jet I had seen at this point in time. A few months later Don Williams experienced a blow-over in his Sleek Kraft which took his life. Williams had a cool lever/cam operated adjustable ride plate on several of his race boats.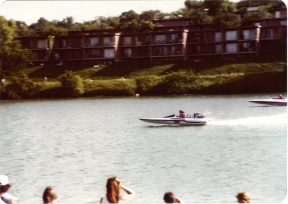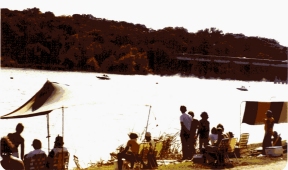 Here are a couple more pictures of the Connell - Williams race taken on Town Lake in Austin. Note Interstate 35 and apartments in the background. This race course was basically in the middle of the city. The Holiday Inn was was located on the edge of the Interstate and you could watch the races pretty well from there. This location was just a mile or two from the state capitol. Well, not anymore. The tree lovers in Austin will no longer allow any races on Town Lake or that much noise within the city limits! Just a bit of trivia!



If you are interested in contributing comments, pictures or other information to this page, feel free to e-mail

[email protected]