Jetboat Engineering's TX-19
"THE FIRST OUTING! IT WAS GREAT FROM THE START!"
The TX-19 "gullwing" or "cathedral" hull design was developed by
Jim Youngblood circa 1975. This boat remains one of the most popular
and copied performance jetboats ever built.






As you can see this boat is the next stage in development from the Apollo
This time the gullwings in front serve to trap air to lift the hull. You can
see the slight curl from the rear view. Other than that and a little length, the
hull strongly favors its predecessors.

Jim Youngblood below in the orange Life Line Jacket at Austin, TX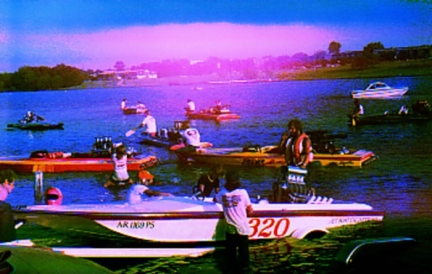 The TX-19 was considered an "almost idiot proof" boat. You can set it up most
any way and it will run decent even with a small engine. For the boat enthusiast
with a competitive spirit, the boat responded well to fine tuning of the hardware
and more horsepower. It is still considered one of the quicker hulls from a dead
start to 600 to 800 feet out. At about 800 feet the modern tunnel boats start to come
on strong. It also takes additional power and more sophisticated hardware for the
tunnel boats to perform to their peak potential, but the TX-19 works with what you can
give her!

This hull is still produced today by several companies:

Jay Erschen of Scorpion Boats
307 W Grove St. in Maquoketa Iowa 52060 - 563-590-5875
www.scorpionboats.com

This Kustom Kraft TX-19 was be found and rigged at Hi-Tech Performance. This
is reported to be one of the last ones constructed by Jimmy Dominick in Lubbock, TX
for Duane Oblander of Hi-Tech Performance.
Click Here to see the TX-19 at Hi-Tech Marine website.
Scroll down the page until you see the Kustom Kraft TX-19 and notice the modern
counterpart still looks very much like the original 1975 version.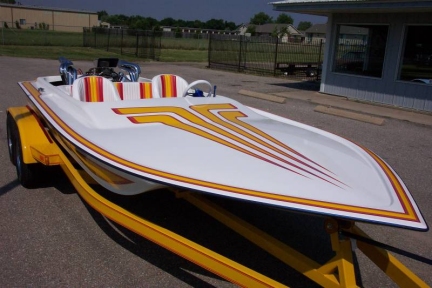 Beutiful Kustom Kraft TX-19 circa 2004! The TX-19 just won't quit!

Other companies that produced the TX-19 and other Youngblood designed boats
or derivatives thereoff include Condor Boats (click here) built by Ervin Capps and
Terry Favors, Bill Scotten at California Peformance, Earl Smith and many others.

If you are interested in contributing comments, pictures or other information to this page, feel free to e-mail

[email protected]