Youngblood Evolution
Circa 1969!
"White Lightning"
Esquire Boats "White Lightning"
Designed by Jim Youngblood and Phil Percival.





Esquire Race Boat in 1970.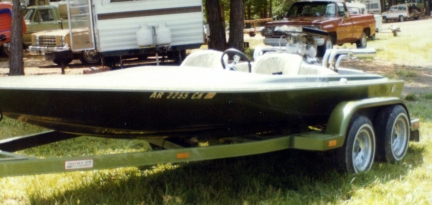 The Apollo low profile California Style Jetboat early 1970's!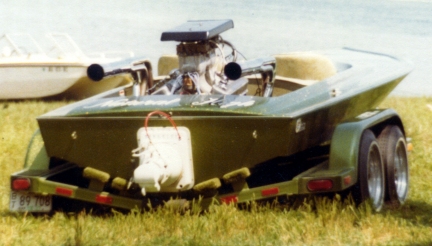 The Apollo boats were constructed by Triple C Enterprises
Hwy 367 S, Cabot, AR and the S/N prefix was TPC.
Neal Clark & Jim Youngblood




The TX-19 "gullwing" hull designed circa 1975 in Cabot, AR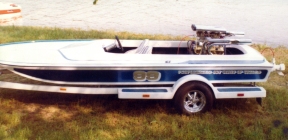 Performance Jetboats of Dallas narrow cockpit TX-19




Rick Hendrix A.P.B.A. record setting
River Racer '78 TX-19
(Yes, R. H. of Nascar fame!)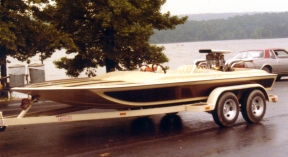 Lake performance TX-19. The TX-19's were buitl by Jet Boat Engineering also known as Youngblood Performance Boats with the plant opening outside Cabot, AR in September of 1973. The S/N prefix on all the Youngblood manufactured hulls is JBN.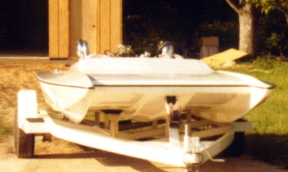 The first Youngblood 20' Picklefork Jetboat Winter 1978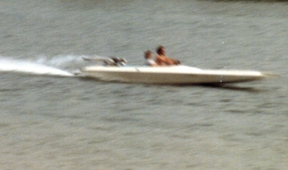 The first 20' boat cruising on the lake!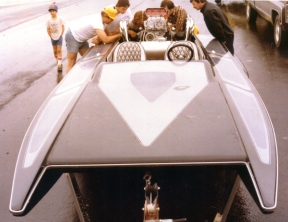 The #2 & #3 20' Pickleforks were of this color and design and manufactured in the early part of 1979 in Cabot, AR. J.D. Simms and Larry Morden of Performance Jetboats of Dallas performed an immaculate installation for the #2 Black & Silver 20' Youngblood Picklefork tunnel and displayed it in the Dallas Boat Show in the Spring of 1979. It was one of the hottest attractions and innovations of the '79 boat show!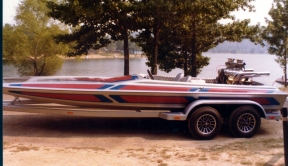 This #7 20' boat was one of the last built in Cabot. The Youngblood Performance boat plant moved from Cabot to Greers Ferry, Arkansas around May of 1979.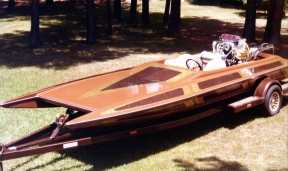 This brown 20' was #10 and one of the first tunnels constructed in Greers Ferry, AR.


The Youngblood Performance boat plant moved from Greers Ferry, AR to West Monroe, LA in late March of 1984. The company opened shop at 308 Cryer St. in the building shared with Mad Mike Battaglia and the Indian Mafia Racing Team was formed.



The Youngblood TX-18 Picklefork Tunnel Hull Jetboat was first manufactured in 1984 in W. Monroe, LA. This hull was trickier to setup, but was successful in both unblown and blown classes. The hull was shorter, narrower and lighter than it predecessor and is very quick. The hull above, driven by Mike Hutson with a Blown Alky engine, ran 142 MPH in 1984 and then Steven Smith ran the hull in the S.D.B.A. & M.D.B.A UBGJ in 1985 & 1986 with speeds over 120 MPH. The boat set records during the 1986 season along with being season Hi-Points Runner Up falling a little behind Mike Straughan driving the new Performance Jetboats of Dallas sponsored Cheyenne boat by the name of 'National Debt".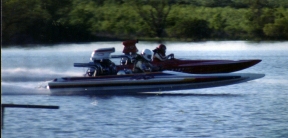 The Star-Fish 18' Youngblood passing the late Jerry Wallace driving the Smokin' & Strokin' Cheyenne in early 1986 at Corsicana.




The 18' pickle boat is shorter, narrower and quicker than the 20' foot version. Whatever it does, it does it quick, good or bad. In the late eighties Duane Oblander and the Hi-Tech Performance crew were running an 18' Youngblood (similar to the one above) with good success in the classes with the "new at the time" short starting line approach racing system and clocks.


The Youngblood Performance Boat plant moved from 308 Cryer in W. Monroe, LA to 110 Melvin Dr., Monroe, LA in late April of 1987. The company primarily built the18' boat at this time and most of them were rigged with outboard motors, yes eggbeaters & props. This company then went out of business in late June 1988. At this time, Ervin Capps with Condor purchased the 18' molds. Ervin spent a couple of weeks with Jim learning the layup schedule of the hull.

Since that time Jim has been constructing fiberglass aircraft parts, dealer and factory fiberglass and gelcoat warranty repairs and a few RC boats in the Monroe area. Jim reports he was still interested in performance hull development and has some ideas for a new hull and may consider constructing a new design mold.

Hopefully I can find the time for a personal visit with my old friend and we can offer you more information on the history and evolution as we review scrapbooks and logs!

This is the evolution of the Youngblood boats built by Jim Youngblood thru 1984. The tradition lives on in each of us and our boats and the builders that continue to construct these hull designs.

Jimmy Johnson and Earl Smith were some of the first to receive molds from Youngblood and began building TX-19's. Jimmy has constructed a number of hull types under the name Jet Boat Engineering and Firehawk Performance Boats. Located in Vian, OK these hull have the JBX S/N prefix.

Earle Smith and Performance Jet Boat Manufacturing under PJB in El Paso, TX and Hot Springs, AR. Bill Scotten with Performance Jetboats then later California Performance Jetboats maunufacturesd hull in California. Bill has constructed the 19' gullwing and tunnel under PJT for over twenty years.

Jim Dominick constructed the TX-19 & TX-20 and many other hull designs in Lubbock, TX under the name of Kustom Kraft with the S/N prefix of KKF. Jim Robertson of Warhawk still builds a modified version of the TX-20 and TX-19 in Eldridge, AL. The TX 19 & TX 20 were also built by Marc Becker of Midwest Custom Jets with the MCE prefix from 1991 to 1999. Presently the molds Becker had are owned by Jay Erschen of Scorpion Boats and Jay produced the TX-19 & TX-20 under the SJX S/N until late 2006.

Over the years Ervin Capps and Terry Favors of Condor built about one hundred ten of the TX-19's. The TX-19 mold that Capps purchased was the one that Dan Pastorini and McClendon had down in Houston with the code of PSJ. Capps later purchased a TX-20 mold from Jim Domminick of Kuston Kraft and constructed around twenty of these crafts. Then in 1988 Capps purchased the 18'molds from Youngblood and his his junkyard owning partner and constructed about twenty of these. Now Ervin has the Cheyenne molds from Tommy Papp in Northern Arkansas under the name of Phoenix Fiberglass. http://phoenixfiberglass.net/

Others have constructed similiar hulls such as Todd York of Mantra (MBE) in KY, Bodie
Council & Sunkisst in Tenessee under SJN, Gary McLendon "the Wolf" under Wolfer in North Little Rock, AR with WOL, Scott Seastrum still builds an 18' Earl's Gullwing in Hot Springs, AR under the S/N of EFL. The 18' and 20' Youngblood tunnel was also constructed at Wyatt Earp Performance Boats in Cushing, OK with the ID of EAR and called the 18' a "Bullit". And believe it or not, Taylor boats in Cushing also constructed two or three heavier versions of the TX-18. Pat Beck of Wicked Performance Boats in Arizona is constructing a gullwing with a redesigned top and bottom.




If you are interested in contributing comments, pictures or other information to this page, feel free to e-mail

[email protected]